Posted: November 18, 2019
When it comes to breast cancer, knowledge, prevention, and early detection save lives and offer the best possible outcome. For that reason, it is important to understand a central topic related to breast cancer: hereditary risk.
Keep reading to learn about this subject, including information on BRCA1 and BRCA2 gene mutations and when to consider genetic testing. Additionally, explore the potential breast reconstruction choices available to high-risk individuals considering prophylactic mastectomy surgery.
Understanding BRCA1 and BRCA2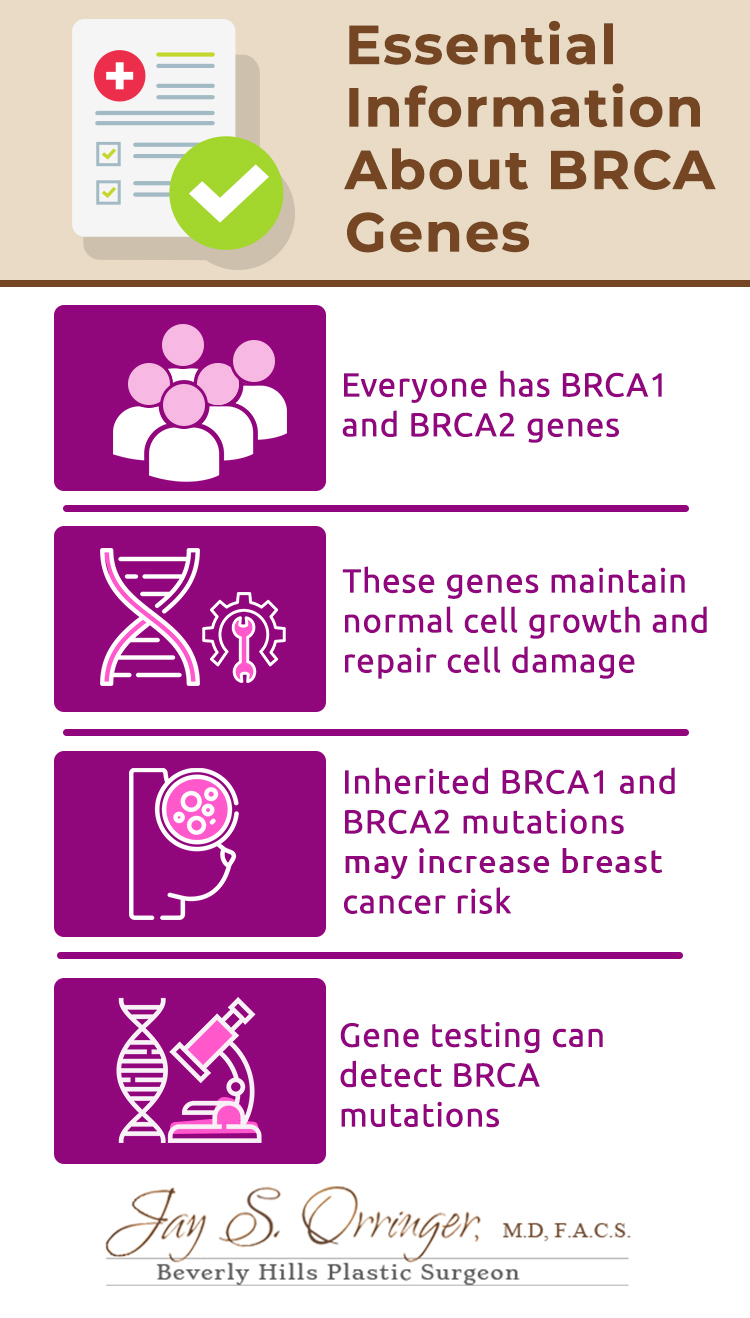 Breast cancer is associated with gene mutations, either inherited mutations or those that happen over a person's lifetime. It is thought that roughly 5 to 10 percent of breast cancers in women are due to inherited, or hereditary, gene mutations. Hereditary mutations are abnormal genes passed down from a parent.
Everyone has both the BRCA1 and BRCA2 genes, which are supposed to maintain healthy cell growth and repair cell damage. These names stand for breast cancer gene one and breast cancer gene two. Commonly, inherited cases of breast cancer are tied to mutations in these two genes.
With BRCA1 and BRCA2 gene mutations passed from one generation to the next, the genes do not always fulfill their normal functions. That means, as a woman carrying these abnormal genes, your estimated lifetime risk of developing breast cancer by age 80 may increase from about 12% average to 72% for BRCA1 and 69% for BRCA2.
Women with one or both of these mutations also have a higher risk of developing other cancers, such as ovarian cancer While having these gene mutations does not necessarily  mean that you will be diagnosed with breast cancer, surveillance and risk reduction is important to discuss with an experienced genetic counselor
It is also important to note that BRCA gene mutations are not the only gene mutations that can lead to increased breast cancer risk. Identification of these other genes may be lifesaving, as well.
When to Consider Genetic Testing
Genetic testing provides you with invaluable information about your cancer risk. A consultation with a genetic counselor will best guide your decision to move forward with testing. However, a few of the factors that may indicate risk assessment is appropriate for your situation include having:
A relative with a known BRCA1 or BRCA2 gene mutation
A personal history of breast cancer before age 45
A personal history of breast cancer and are of Ashkenazi (Eastern European) Jewish descent
A personal history of ovarian cancer
A personal history of two or more types of cancer
A personal history of breast cancer and a blood relative on either side of your family diagnosed with breast cancer before age 50
A personal or family history of cancer in both breasts
A personal or family history of male breast cancer
Breast Reconstruction Options for High-Risk Individuals
It is estimated that women who carry a BRCA1 or BRCA2 gene mutation can potentially reduce their risk of developing breast cancer by 90 to 95 percent through a prophylactic, or preventative, mastectomy. However, the appropriateness of this approach, and the degree of risk reduction, depend on the situation.
When considering a prophylactic mastectomy, it is important to work with a team of medical specialists, including a genetic counselor, a plastic surgeon, and a breast general surgeon, among other professionals, to arrive at a comprehensive treatment plan that best meets your needs.
Dr. Orringer will work with you and your team to discuss a variety of options for reconstruction after mastectomy, if that is the route you  choose to take. These options may include expander and implant reconstruction and autologous tissue reconstruction procedures, such as DIEP and GAP flaps. As a double board-certified plastic surgeon, fellowship trained in microsurgery, with 30 years of reconstructive experience, Dr. Orringer considers it a privilege to work with you during this time.
Schedule Your Beverley Hills Consultation
If you are considering a prophylactic mastectomy and breast reconstruction, Dr. Orringer will discuss your individualized situation and help you explore potential options for breast reconstruction. Call 310-273-1663 today to schedule your caring, individualized consultation. We welcome patients from Beverly Hills, Los Angeles, Santa Monica, Hollywood, and Newport Beach, Northern California, as well as nationally and internationally.