While large breasts are often considered a sign of femininity and may be considered attractive, excessively large breasts can cause both physical and emotional discomfort. Many women suffer from a condition known as macromastia. You may find that your breasts cause pain and make it challenging to perform physical activities. Even if you do not have symptoms of macromastia, you may be unhappy with the size of your breasts and wish to consider breast reduction surgery for aesthetic reasons. Overly large breasts can also cause you to feel self-conscious and attract unwanted attention. In addition, they can make it difficult to find clothing that fits properly.  
If you feel that the large size of your breasts is interfering with your life, a breast reduction may be a great option to potentially decrease certain physical symptoms, such as postural neck and backaches, which may help you feel more self-confident and comfortable.
Dr. Jay Orringer is a double board certified plastic surgeon with more than 30 years of experience performing breast reduction procedures. You can learn about your options and find out if breast reduction might be a good option for you by speaking with Dr. Orringer. Please call 310-273-1663 today to schedule a consultation at our Beverly Hills plastic surgery office.
What is Breast Reduction Surgery?
Breast reduction surgery, also known as reduction mammaplasty, is a breast procedure to remove excess skin and underlying breast tissue. The nipple and areola are typically repositioned in a higher, more youthful position. The goal of the procedure is to achieve a smaller, shapely breast that better aligns with your aesthetic goals and reduces the discomfort associated with excessively large breasts.
Every woman has her own special concerns, as well as her own concept of beauty. Some women desire larger breasts while other women find smaller breasts to be more ideal. Dr. Orringer strives to understand each patient's goals and considerations, through caring and personalized consultation, to arrive at an individualized treatment plan.
You may benefit from breast reduction surgery if:
You experience chronic back or neck pain due to the heavy weight of your breasts
Your bra straps create painful grooves in your shoulders
Your breasts interfere with your ability to perform daily activities
The weight of your breasts causes you to experience posture changes
Your breast size limits your ability to perform athletic activities
You have difficulty finding clothing that fits you well
Your large breasts cause you to receive unwanted attention and make you feel self-conscious
Your breasts result in you feeling unattractive or overweight
You have skin irritation beneath your breasts
Benefits of Breast Reduction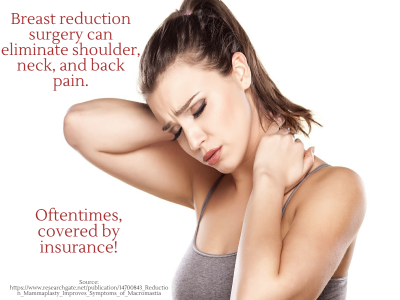 A breast reduction procedure may create an aesthetically pleasing breast contour that is more proportionate to your body. You may also find that having smaller breasts results in a variety of improvements regarding the way you feel, your appearance, comfort, and lifestyle.
Breast reduction may potentially provide the following benefits:
Reduced neck, back, and shoulder pain
Ability to perform athletic and other daily activities with greater ease
Ability to find clothing that fits properly and ability to wear the styles that you desire
Improved self-confidence and body image
Reduced self-consciousness in public
Reduced irritation under the breasts
For some women, the physical, aesthetic, and psychological benefits of breast reduction are immense.
Am I a Candidate for Breast Reduction?
You may be a good candidate for breast reduction surgery if you suffer from heavy, pendulous breasts that cause back, neck or shoulder pain. You may also benefit from this procedure if you are unhappy with the size of your breasts from an aesthetic perspective.
Generally speaking, ideal candidates for breast reduction:
Have breasts that have reached their full development
Are physically healthy
Do not smoke or are willing to quit in order to facilitate surgical healing
Have realistic expectations  
During your consultation, Dr. Orringer will discuss your history, including the reasons you are considering breast reduction and will perform examination to determine if you may potentially benefit from breast reduction surgery. He will also discuss in detail the potential benefits, as well as considerations such as scarring and possible sensory changes that must be weighed in your decision.
Your Breast Reduction Procedure and Recovery
The goal of your breast reduction procedure is to achieve a breast shape that is smaller, lighter, and more attractive. During your procedure, Dr. Orringer will remove excess skin and underlying breast tissue.
This procedure is performed under general anesthesia. Dr. Orringer does not typically use drains and you are immediately placed in a bra. While every patient is unique, many patients express that they experience less pain than they had anticipated. While breast reduction may be performed as an out-patient, Dr. Orringer prefers you to stay overnight at the hospital or at Serenity Aftercare in an effort to maximize comfort. He will see you the next morning and at that time, despite some early swelling, you will usually see a pleasing change. Dr. Orringer and his staff consider it a privilege to share in your care and strive to provide you with a very positive experience which emphasizes safety, comfort, and early return to activity.
You will be provided with pre- and post-operative instructions which Dr. Orringer will first discuss with you prior to your surgery. Some of the items these instructions include are:
Medications to avoid and to take prior to, and following, surgery
Some common things that might be expected during healing
Activity recommendations
Schedule Your Breast Reduction Consultation Today
Please contact Dr. Jay Orringer at The Renaissance Medical Center for Aesthetic Surgery, Inc. by calling 310-273-1663 today. We serve patients in Beverly Hills, Los Angeles, Santa Monica, and Hollywood, California, nationally, and internationally.