As you age, you may begin to notice some changes to the appearance of your breasts. The full, perky breast appearance you once enjoyed may be impacted by issues associated with sagging and lost volume. This is quite natural and may occur for a number of reasons. Fortunately, a breast lift can potentially improve these issues and restore a more youthful, perky breast appearance.
You can find out whether a breast lift may be right for you by speaking with board certified plastic surgeon Dr. Jay Orringer in person. Please contact our Beverly Hills office to schedule a consultation today.
Am I a Breast Lift Candidate?
You may potentially be a candidate for a breast lift if you experience significant sagging issues, often caused by:
Large natural breast size
Pregnancy and breastfeeding
The aging process
Weight gain and loss
In addition, breast lift candidates should have realistic expectations regarding the outcome of their procedure and be in good general health. If you smoke cigarettes, you'll need to quit prior to your procedure and throughout the recovery period since smoking may negatively impact healing and results.
If you are looking to restore lost breast volume in addition to improving sagging issues, Dr. Orringer may recommend breast augmentation in conjunction with a breast lift to potentially achieve enhanced results.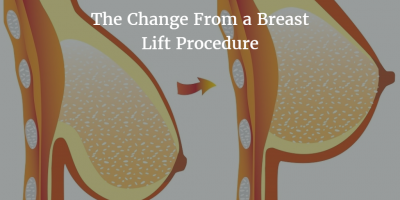 Your Breast Lift Procedure
Dr. Orringer will customize your breast lift procedure based on your unique individual needs and goals. During your procedure, the breast tissue is reshaped and the nipple is repositioned in order to potentially restore a perkier, more youthful breast appearance.
There are four different breast lift incision options to choose from. Dr. Orringer will recommend the option that he feels will most effectively address your unique goals. Potential incision options include:
Crescent – short incision along the upper half of the areola
Peri-areolar – the incision forms a circle around the areola
Lollipop – incision around the areola and an additional vertical incision extending towards the breast crease
Anchor – circular incision around the areola, vertical incision down the breast crease, and an additional horizontal incision along the breast crease (this options provides the potentially greatest amount of skin removal and tightening)
Dr. Orringer typically recommends either the lollipop or anchor incision for most of his breast lift patients. He may use the crescent and peri-areolar incisions when there is only limited droop and breast implants are being placed as well.
Please contact Dr. Jay Orringer at The Renaissance Medical Center for Aesthetic Surgery, Inc. to schedule your breast lift consultation online or by phone 310-273-1663 . We serve patients in Beverly Hills, Los Angeles, Santa Monica, and Hollywood, California, nationally, and internationally.