Breast augmentation is one of the most popular procedures performed at our Beverly Hills plastic surgery practice. For many women, it can have significant benefits, including the increased self-confidence that comes when you look and feel your best.
If you would like to improve your breast appearance, then breast augmentation may be an excellent option for you. You can find out whether you're a candidate for breast augmentation by speaking with Dr. Jay Orringer in person.

Am I a Breast Augmentation Candidate?
In general, you may potentially be a good candidate for breast augmentation if you:
Are in good overall health
Have realistic expectations for the outcome of your procedure
Are emotionally mature enough to make an important decision regarding altering the appearance of your body
Are over the age of 18 (for saline breast implants) or older than 22 (for silicone breast implants)
Can fit the cost of the procedure into your budget
Benefits of Breast Augmentation
Your new breast augmentation procedure can potentially help you achieve a more balanced and proportionate body contour, improving not only your breast appearance, but your overall appearance as well.
Other aesthetic benefits may potentially include:
Correction of breast asymmetry
Improved breast shape
More attractive cleavage
Better breast projection
Restoration of lost breast volume caused by aging, pregnancy, or weight loss
Increase in wardrobe options
Improved appearance in clothing and bathing suits

Types of Breast Implants
One of the decisions you'll make regarding your breast augmentation procedure involves the type of implant that will be used. Dr. Orringer offers a wide range of breast implant types, shapes, and sizes in order to provide you with a truly customized procedure that addresses your unique aesthetic goals and body type.
Saline Breast Implants
Saline breast implants consist of a silicone shell filled with a sterile saline solution. Although less commonly used today in Dr. Orringer's practice, saline implants may provide several important benefits, including:
They can be filled after being inserted into your body, providing Dr. Orringer with some additional control of individual implant size
Saline implants allow for a smaller incision
If your implant ruptures, the sterile saline solution is absorbed and excreted by your body
In recent years, saline implants have waned in popularity, mainly due to the fact that they tend to look and feel less natural than silicone gel options. This issue is even more pronounced for thinner women with less natural breast tissue.
There are several other drawbacks to consider before choosing saline implants:
Saline implants may deflate, creating a very uneven breast appearance that requires a revision procedure to correct
Implant rippling is more likely to be visible than with silicone gel implants
Silicone Breast Implants
Silicone breast implants consist of a silicone shell filled with a cohesive silicone gel material. Today's silicone implants have been extensively studied and are FDA approved.
In recent years, silicone implants have become increasingly popular due to the fact that they tend to look and feel more natural than saline implants.
Gummy Bear Implants
Gummy bear implants are the newest breast implant option to receive FDA approval. They consist of a silicone shell filled with a denser, more cohesive silicone gel that holds its shape better.
While these implants might be a good option in certain situations, the gel is firmer than other implants. When shaped, "gummy bear" implants can shift position and when round, they tend to look a bit more spherical than softer options. However, particularly in a setting of thinner tissues, they may be a pleasing choice.
One downside is that the more form-stable material used in gummy bear implants requires a typically larger incision. This may limit your incision placement options.
Dr. Orringer understands that every person is unique and as a result, he tailors your treatment plan to address your unique goals. Implant selection is a highly individualized decision that is best made after detailed, personalized consultation.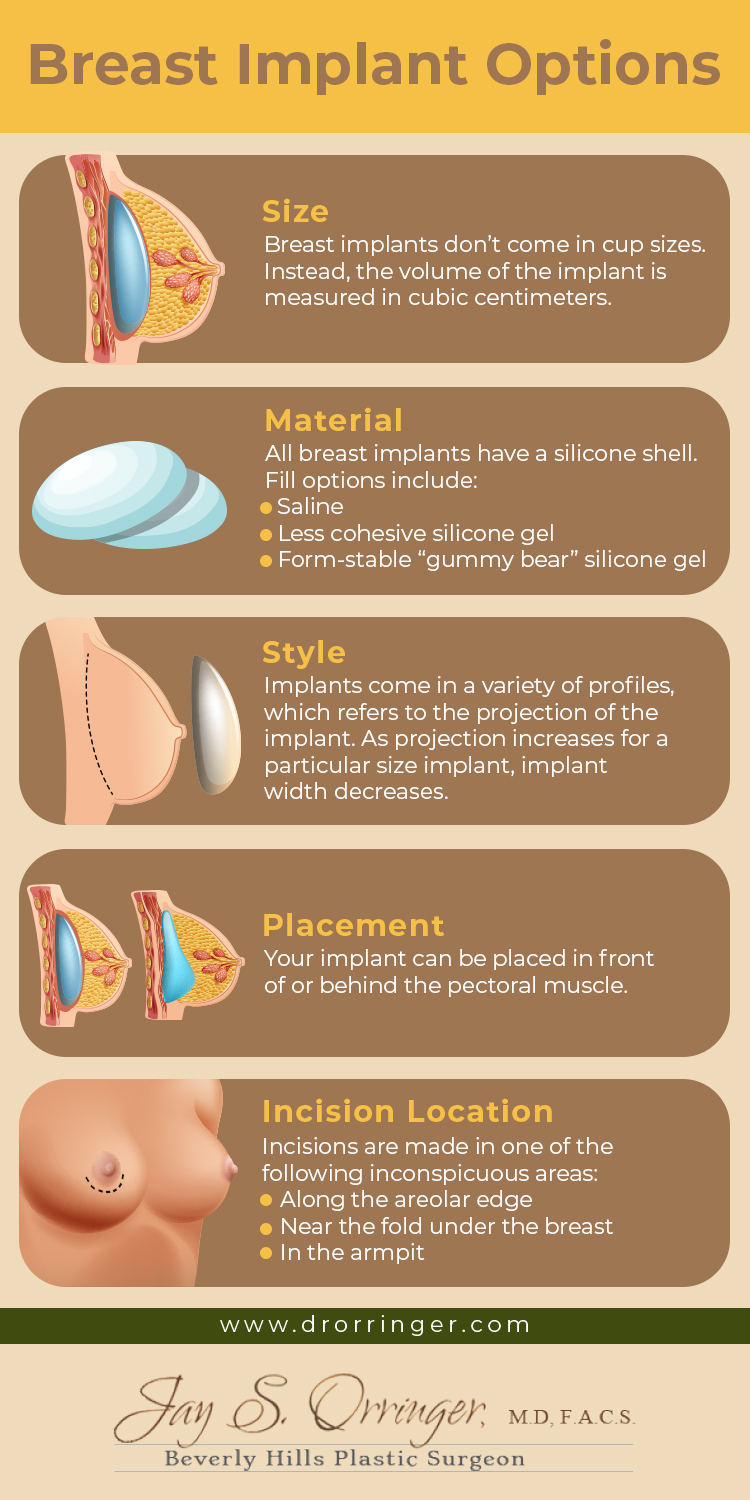 Subglandular Breast Implant Placement
If you choose the subglandular implant placement option, Dr. Orringer will place the breast implant behind your breast tissue and over the chest muscle. This option may be ideally suited for women with a significant amount of natural breast tissue.
You may potentially achieve several benefits from subglandular placement, including:
The accommodation of a larger breast implant size
Greater lift
Reduced recovery time
Greater ease of implant placement
Some possible limitations of this option include a greater risk of rippling for women with minimal natural breast tissue and an increased likelihood of capsular contracture.
Submuscular Breast Implant Placement
With the submuscular placement option, Dr. Orringer will place your breast implant partially under the chest muscle. This option may potentially provide for greater coverage of the breast implant and a more natural appearance, particularly among women who don't have a lot of natural breast tissue. Dr. Orringer recommends partial submuscular breast implant placement for most of his patients.
Some potential benefits of submuscular placement include:
Improved support of the breast implant which may reduce implant sagging over time
Reduced risk of complications such as capsular contracture and rippling
Less interference with mammograms
Rarely, submuscular placement may potentially limit the size of the breast implant used in your procedure.
One of the important decisions you'll have to make regarding your breast augmentation procedure involves the location of the incision used to place your breast implants. There are several different options, and the right one for you will be based on your aesthetic preference and the style and size of implant selected.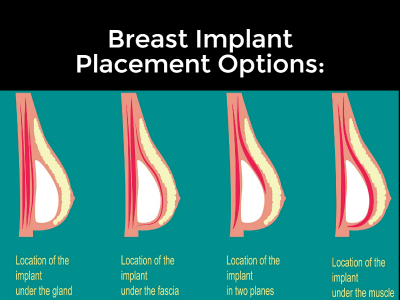 Breast Augmentation Incision Options
Dr. Orringer performs breast augmentation using a variety of incisions. Incisional approaches include:
Peri-areolar
Inframammary
Transaxillary
All of these incision options can accommodate submuscular and subglandular breast implant placement, and both can be used with any type of breast implant.
Peri-Areolar Incision
The peri-areolar incision is performed around the lower areolar border. Some patients favor this as there naturally is a line present between light and darker skin. There is no chance that it will be seen near the fold in a bathing suit. Other important benefits to the peri-areolar incision option include:
May result in more precise implant positioning than transaxillary
May allow for necessary cosmetic work on the lower breast
Some drawbacks of this option include:
May interfere with breastfeeding
Potential loss of nipple sensation
Possibly greater risk of implant firmness (encapsulation)
Inframammary Incision
The inframammary incision is performed near the lower breast fold. This is also a commonly used incision location.
Possible benefits of choosing the inframammary incision option include:
Possibly less interference with breastfeeding
Possibly greater preservation of nipple sensation
Possibly a lower rate of implant firmness (encapsulation)
Drawbacks to the inframammary option include:
You may experience irritation in the incision location while you recover from surgery
Your scar may remain red for an extended period after your breast augmentation procedure
Some prefer not to have a scar near the fold
Breast Augmentation Revision Surgery
While modern breast implants are very durable and can last a very long time, it's not realistic to expect them to last for the rest of your life. Eventually, it is likely that you will need a breast augmentation revision procedure. There are a different set of challenges associated with revision procedures than are encountered during the initial breast augmentation surgery, and it's important that your surgeon understands the unique issues that need be addressed during revision surgery.
Common Reasons Why You May Need Breast Augmentation Revision
Breast augmentation technology and equipment is advancing rapidly, and it is likely that there will be a continued improvement in the durability and lifespan of breast implants in the near future. However, there will always remain a chance that your implants may potentially need to be replaced at some point down the road.
Common reasons why women opt for breast augmentation revision surgery include:
Replacement of a ruptured breast implant
Improvement in appearance of the initial augmentation
Desired change in breast size
The desire to switch to a different breast implant style
Address changes in breast augmentation results over time
Correction of a complication associated with your initial procedure such as scar tissue development or unsatisfactory implant position.
Your Breast Augmentation Consultation
Dr. Orringer will typically spend at least an hour discussing your medical history and goals. He will also perform a thorough examination to evaluate your:
Current breast size and shape
Degree of sagging
Nature of the skin tone
Breast and chest wall asymmetry
Based on this evaluation, he will explain the different options available to you and make customized recommendations regarding potential breast implant type, incision location, and implant place options.
If you are undergoing breast augmentation revision, Dr. Orringer will also address the considerations that are specific to these individualized procedures.
Important Breast Augmentation Considerations
There are several factors that will impact your breast augmentation procedure. Dr. Orringer will discuss these with you during your consultation in order to arrive at a customized treatment plan that addresses your unique needs and goals:
Your tissues and dimensions – Your natural breast size, the amount of natural breast tissue you possess, and your body type will impact the style and size of breast implant that may best achieve your goals.
Size expectations – Dr. Orringer strives to achieve a new breast size and shape that looks natural and in proportion to your body type, while taking into consideration your personal aesthetic preferences.
Pregnancy considerations – The desire to have children down the road won't rule you out as a breast augmentation candidate, but it's important to understand that pregnancy and childbirth may adversely impact your results. Plans for future pregnancies might affect the recommended timing of your surgery.

Lifestyle factors – If you lead an active, athletic lifestyle, you should discuss this with Dr. Orringer. In some instances, he may recommend a size that may be more consistent and comfortable with your athletic lifestyle.
Whether you have had silicone gel implants placed for cosmetic or reconstructive purposes, the FDA currently recommends implant ultrasound or MRI at 5-6 years and every 2-3 years, thereafter, to assess implant integrity. I consider this important because implants are not permanent devices and implant rupture can be silent. I also strongly encourage annual follow-up examination to complement these studies. Please do not hesitate to call our office with any questions at (310) 273-1663.
Schedule Your Breast Augmentation Consultation Today
Please contact Dr. Jay Orringer at The Renaissance Medical Center for Aesthetic Surgery, Inc. using the form on this page or call 310-273-1663 today. We serve patients in Beverly Hills, Santa Monica, Los Angeles, and Hollywood, California, as well as nationally and internationally.