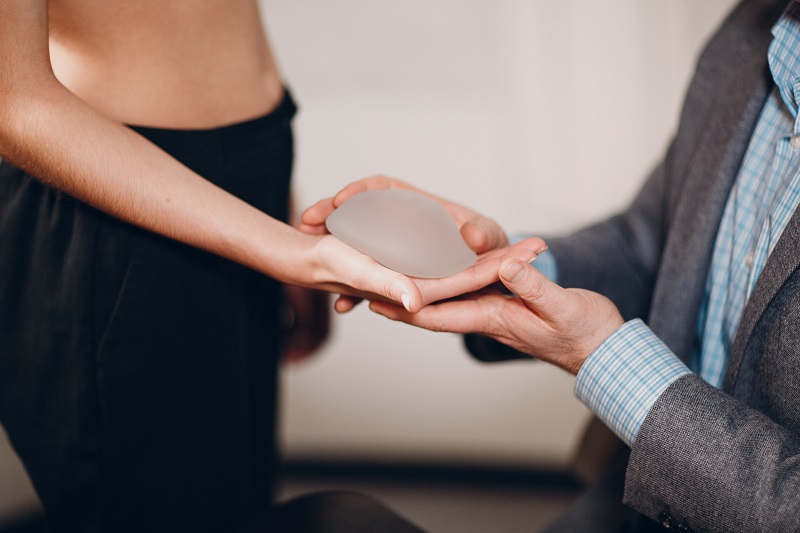 Picking a breast implant size and style is one of the most important and personal decisions you will make regarding your breast augmentation procedure. While there are a range of implant sizes and styles which can potentially deliver beautiful results for your body type, the right option for you will depend on several specific factors.
To help you choose a breast implant size and style that will suit your unique needs and goals, double board-certified plastic surgeon, Dr. Jay Orringer, will carefully evaluate the following factors:
Your height and weight
Your chest and breast dimensions
The final breast size and appearance you  hope to achieve
The implant profile or projection you desire
How much natural breast tissue you possess
Your skin elasticity
Your lifestyle
Breast Implants Are Not Measured by Cup Size
It is important to understand that breast implants are measured in cubic centimeters (cc's), not by cup size. There are several reasons for using cc's as the standard unit of measurement.
First, there is no standard bra size measurement adopted by all manufacturers. Think back to the last time you purchased a bra in your usual cup size, only to find out it did not fit. A D-cup bra from Victoria's Secret may fit differently than a D-cup bra from Bravissimo.
Second, by utilizing the metric system, cc's provide for a more objective and standardized measurement system. This way of measuring implant sizes is standard across the country.
There are a wide range of breast implant sizes available. You can choose an implant as small as approximately 120 cc's and one as large as approximately 850 cc's. In most instances, Dr. Orringer will recommend a size between these extremes.
It's Important to Think About Your Lifestyle
Lifestyle factors are particularly important when choosing an implant size, and you should discuss these with Dr. Orringer during your initial consultation. It is important to be aware of how implants may affect your everyday activities.
Implants often weigh less than a pound each, similar to what the same amount of breast tissue would weigh. However, the larger the implant, the heavier it will be.
If you lead a very active and athletic lifestyle, a more moderately sized breast implant may potentially provide a more pleasing outcome, since it is less likely to interfere with your favorite athletic activities. By sharing the nature of your fitness routine with Dr. Orringer, he can help suggest a size consistent with your level of physical activity.
Another lifestyle factor to consider is the way you dress. For example, will your breast size allow you to wear the styles of clothing you prefer? While many implant sizes will look flattering in a low-cut top, very large implants may appear less optimal in more professional clothing.
Contact our Beverly Hills Plastic Surgeon
During your initial consultation, Dr. Orringer will listen carefully to your personal goals and evaluate your body type, in order to recommend the breast implant size and style, which he feels may deliver the outcome you desire. Call 310-273-1663 today to schedule your breast augmentation consultation. We proudly welcome patients from Beverly Hills, Los Angeles, Santa Monica, Hollywood, and Newport Beach, Northern California, as well as nationally and internationally.