You are here
Reviews
Also serving patients in Los Angeles, Santa Monica, Hollywood, Newport Beach, and Northern California, as well as nationally and internationally.
Dr. Jay Orringer and his office staff work to provide a warm, welcoming, and personalized experience for patients at his Beverly Hills plastic surgery office. Internationally known, it is Dr. Orringer's goal to provide a caring, positive experience from your first consultation to your final follow-up after your breast or body procedure.
"Dr. Jay Orringer is amazing!! Besides being the most caring and comforting doctor, I have ever met--his work is phenomenal! I couldn't be happier with my results. He is an artist. His bedside manner is genuine, and his biggest concern is always his patients' health. The ladies who run the office reflect all these amazing qualities! Their warmth, concern and answers to all my questions were so helpful in a time of great vulnerability. Dr. Orringer and his staff are off the charts in my book of recommendations!!!" – T. W.
Your Plastic Surgery Consultation in Beverly Hills
Your consultation takes place at the Renaissance Medical Center for Aesthetic Surgery, Inc. and will typically last 60 to 90 minutes, depending on your unique cosmetic or reconstructive concerns. Dr. Orringer will review your past medical history and records, when available, and perform a relevant, detailed examination. He will discuss your aesthetic goals and his recommendations, including potential treatment options.
Dr. Orringer usually performs his outpatient cosmetic surgery procedures at the Summit Surgery Center. The facility is fully accredited and certified by the American Association for Accreditation of Ambulatory Surgery Facilities (AAAASF). Some patients will choose to spend their first night following surgery at Aura Aftercare. Aura provides a variety of specialized post-surgical services.
"Dr. Orringer and his team helped my husband and I through one of the toughest times in our lives - breast cancer. No one, and [I] mean no one, brings the experience, artistry, caring and concern that Dr. O and his team provide." - Margaret D.
About Dr. Jay Orringer, Internationally Known, Board-Certified Plastic Surgeon
Dr. Orringer is double-board-certified by the American Board of Plastic Surgery and the American Board of Surgery. He specializes in cosmetic and complex breast reconstructive procedures. He remains dedicated to providing caring, personalized service to his patients, having both lectured and written about current, innovative techniques. With more than three decades of experience, Dr. Orringer considers it a privilege to continue to help patients achieve their aesthetic goals.
His expertise has been recognized on television and news programs, including The Today Show and Entertainment Tonight. For 17 years, Dr. Orringer was an assistant clinical professor of surgery for the UCLA Division of Plastic and Reconstructive Surgery. He is currently adjunct clinical faculty at the John Wayne Cancer Institute. Dr. Orringer has lectured, published, and been honored for his service in the field of plastic and reconstructive surgery.
"Dr. Orringer is the greatest Doctor for so many reasons. He is extremely thorough in preparing you for surgery as well as putting your safety first. Dr. Orringer took so much time with me in his office, going over every detail of my surgery and answering all of my questions. I trust him so much. Dr. O gave me such comfort, and my end result is exceptional!!!!! He has MAGIC HANDS!" - Stephanie A.
Please Leave a Review for Dr. Orringer
Dr. Orringer and his staff strive to provide a warm, caring, and personalized experience for every patient. Please leave a review and share your story to help others understand what they can expect from our Beverly Hills plastic surgery office.
Please contact Dr. Jay Orringer at The Renaissance Medical Center for Aesthetic Surgery, Inc. to schedule your consultation today at (310) 273-1663. We serve patients in Beverly Hills, Los Angeles, Santa Monica, Hollywood, Newport Beach, and Northern California, nationally and internationally.
"What does one say to the person who has done so much to take a terrible trauma and turn it around completely into something wonderful?"
"I want to thank you again for taking the time to perform my facial surgery. Your surgical skills and bedside manners far exceed 99 percent of the doctors I've seen or worked with."
"Thank you for being so skilled. And thank you for being such an artist. I am truly blessed to have met you."
"I've never felt so good in a doctor's office. Your office felt very healing and comforting – not cold and frightening. You're a terrific doc!"
"I cannot express in words my appreciation of what you have done for us. Your professional skills were what led us to you, but your personal skills are what keep us – your unfailing warmth, your humor. We are forever in your debt."
"You are a master at seeing and creating beauty. I love my breasts – they are how I have always envisioned myself, so it's truly a dream come true. Thank you."
"Thank you for the incredible difference that you have made in my life. Not only have you sculpted my body to something I could never have dreamed of, but you have been so supportive, helpful, and caring through it all. Never would I have imagined that I would look this incredible. I owe it all to you. You have had such a profound effect on my life, and I don't think I will ever be able to express that enough to you. Thank you again for taking such good care of me."
"Dr. Jay, I had to make the hardest decision in my life in considering prophylactic mastectomies. To take a 'normal' body and undergo a tram-flap was, needless to say, very frightening in itself. You (and your staff) are the most wonderful, patient, nurturing, calming group I have ever had the honor to know. The results are beyond my wildest expectations and I am forever indebted to you for making me feel so beautiful on the inside as well as the outside!!!"
Pages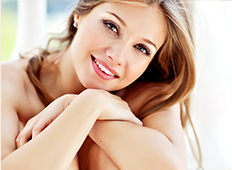 Before & After Gallery
Be sure to view our Before and After Photo Gallery showing real patient results.